Through this blog we seek to further the mission of the MU Campus Writing Program by offering a resource that supports faculty using "writing-to-learn" and "learning-to-write" principles in their classroom teaching. The posts included here are written by faculty for faculty, with a specific focus on teaching critical thinking, problem solving, communication, and disciplinary writing.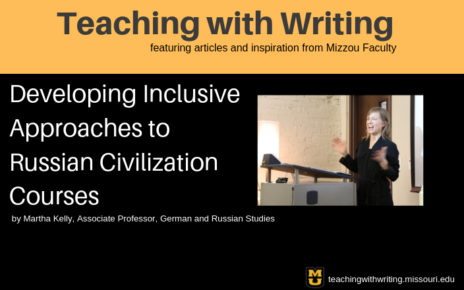 In our small Russian Studies program we teach a number of courses that serve the larger campus community. Two such courses make up a two-semester large-lecture Writing Intensive "Russian Civilization" sequence. I have taught both semesters of this course for…
Because I am Chair of the English department, you might imagine that I was a person who was born with a book in her hand, who loved writing papers in college, who always got A's in her English classes –…
As teachers who use writing assignments to help students learn course material, we hope that students think critically as they complete our assignments, and we expect that they are learning from their writing. But what does critical thinking really mean in the context of their writing and the assignments we provide? What are students doing when they think critically to complete our assignments, and how does it help them learn things that are relevant to our courses?
Most of us spend our years of doctoral and post-doctoral training learning how to do research in our fields. Many of us serve as teaching assistants during this time, and some of us have the primary responsibility for a class. Still, when we begin faculty positions, we often feel ill prepared to take on teaching multiple classes a year. And if we are asked to teach a writing-intensive (WI) class, we may feel an added sense of bewilderment.
Many faculty are understandably curious about the writing instruction students will receive as students here. To earn an undergraduate degree at MU, every student is required to take three writing courses: English 1000 followed by two WI courses, one of which must be at the upper division level in the major. ENGL 1000 is overseen by the Composition Program in the Department of English, while the WI curriculum is overseen by Campus Writing Program.
In this post, I describe a writing-intensive and assignment-based curriculum that instructs students on best practices in writing a scientific paper and about the scientific publication process and scientific peer review.
Evaluating student writing can be difficult, and assuring consistent grading from one assignment to the next and between various faculty/TA graders can be particularly challenging. You might ask, why is this? Many factors contribute to the issues we face when evaluating student writing.
When deciding to incorporate writing into a course, most instructors have learned that this is not as easy as "I'll just assign an essay." For many, the first step is to determine what the learning objectives are for the writing assignment: what do you want your students to get out of writing this paper?
Peer review allows students to experience the advantage of feedback not only from the instructor but from their colleagues as well. There are several reasons to recommend employing such an approach, not least of which is a related phenomenon: peer pressure.