Published on April 12, 2016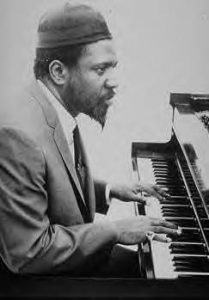 Thelonious Monk does not simply play the piano–he lives through it.  The instrument is an extension of himself  Each note Monk plays is a cathartic expression of emotion–love, loss, pain, anguish–all conspiring with the virtuoso's grunts and mumbles to create a sound world unique to the mysterious jazz master, an auditory experience impossible to replicate and impossible to ignore.  Monk's raw, visceral, and powerful presence at the keyboard comes across regardless of ensemble and setting; however, it is perhaps best understood in the context of a solo performance–Monk, a piano, no boundaries, and no inhibitions.  It is exactly this musical gift that the lucky individual who ascertains a copy of Monk's CD Thelonious Alone in San Francisco (Riverside Records, matrix number 0JCCD-231 S3801L) can find him or herself in company with, and such a treasure should be savored for the unique opportunity to listen to one of the masters of America's greatest export in conversation with himself.
The album is, as its title suggests, representative of a recording session conducted during a visit by Monk to San Francisco (his first to the city, interestingly enough) in October of 1959.  At 42 years of age, Monk's nascent prominence was garnering national attention as his sound traveled beyond the smokey jazz haunts of New York City to the sun-soaked supper clubs of California. It follows that such an introspective musician would want to capture his first visit to one of the great cities of the United States and all the thoughts he must have carried with him during the journey on record (the album cover features an alluring shot of Monk dangling enthusiastically from a cable car), and fortunately Monk or one of his acquaintances had the presence of mind to do just that.
Understanding Monk as an artist must begin with understanding his complete control of his instrument, an element which is remarkably accessible to the listener in the solo piano setting this album reveals.  Despite rumors that followed him throughout his career claiming that he lacked classical training and clean technique, Monk's command of the piano is exhibited in all of its glory on Alone in San Francisco.  He flirts with elements of stride, dazzles with dizzying arpeggios, punctuates phrases with definitive downbeat demarcations, and utilizes the entire range of the instrument.  Monk's performance is multi-dimensional; it is more than mere technical prowess that he exposes.  Monk is in complete control of the vast emotional palette offered to him by the jazz tradition: he provokes the piano to cry on a ballad just as easily as he makes it saunter and swagger on a blues.  The resulting product is a profoundly potent and powerful listening experience worthy of many repeated hearings.
Monk's prowess as a pianist is impressive, but perhaps more astonishing is the large number of selections on Alone that are compositions by the performer himself.  Six of the ten songs on the album are Monk originals.  Of particular interest to Monk novices and enthusiasts alike are the opening two tracks of the record, "Blue Monk" and "Ruby, My Dear."  The former, one of Monk's signature tunes, is a simple yet memorable blues head in Bb, easily distinguished by its sequential melody harmonized in diatonic thirds.  Here the listener is made keenly aware of Monk's playful sense of artistry.  Monk never once employs exact repetition of previous iterations of the melody, instead he stretching it across barlines or adds elements of rhythmic diminution and changing articulation in an impeccable sense of time.  Amazingly, the tempo remains steady throughout the piece (and the album, for that matter) despite the lack of a rhythm section to aid in such matters.  Although his improvised solo is short, it is nonetheless melodically memorable and rhythmically inspired. Immediately following is "Ruby, My Dear," a sensitive, introspective ballad which balances nicely with the upbeat tone of "Blue Monk."  In "Ruby, My Dear," Monk makes the most of the entire range of the piano, drawing from the rich hues of the lower register and the sparkling potential of the upper register of the instrument to take the listener on a truly fantastic journey.  Punctuations by several recurring and hypnotic ostinato figures–among them Monk's signature 5-note whole-tone lick–add to the almost Chopin-esque feel of the track.  Equally worthy of mention amongst the Monk compositions is "Pannonica," a composition featuring an angular melody whose twists and turns are augmented by unpredictable harmonies weaving around various tonal centers like the cable car tracks of the city Monk recorded this masterpiece in.
Not one to ignore the standard repertoire of the jazz idiom, Monk adds his own takes of "Everything Happens to Me" and the Irving Berlin classic, "Remember," to the set. Each has its merits, but his take on the melancholy "Everything Happens to Me" is particularly intriguing, with its breathtaking double-time improvisations and heart-wrenching melodic interpretation, and perhaps his finest performance on the album. Also worthy of note is Monk's articulation on this track. Monk's sensitivity is often easily overlooked, as his articulations are famously heavy, but here he displays a feathery touch which is simply sublime.  The sound of Monk's tapping foot and particularly audible singing of phrases add even more character to the already-appealing track.
Recorded over two days, the listener might find it interesting that certain elements of unity of interpretation can be ascertained from the album.  In particular, Monk's propensity to end each blues he performs with a dissonant minor 9th (a b natural and a c natural in the case of "Blue Monk") is quite curious. The tracks are of similar length, with none lasting longer than six minutes.  Also of note is the bonus alternate take of "There's Danger in Your Eyes, Cherie" included on the album.  Although interesting for comparisons sake, the extra track did not seem to add to the overall quality of the record.
The product of Monk's first visit to San Francisco, a solo piano album, stands alone as one of his finest records in a vast and brilliant output.  Not only does the album serve as a musical snapshot of what must have been a thrilling experience for one of America's foremost musical figures as he visited a great American city for the first time, but it also encompasses many of the things that make Monk a canonical figure in the world of jazz piano: dazzling technique, sensitive melodic interpretations, carefully-crafted improvisations, and richly creative compositions.  Any fan of jazz should take advantage of the rare opportunity to hear Monk perform in an intimate environment on his own terms.  The chance to hear such a jazz master performing solo is truly a treasure, and is one not to be missed by any jazz fan wanting to further his or her knowledge of America's greatest export.