Published on July 31, 2017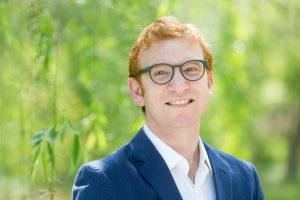 "Wait 'til next year."
Year after year, baseball teams—and their fans—mutter this optimistic phrase. No matter how poor of a season their team is experiencing, players, coaches and fans manage to find a glimmer of hope that next year will be better.
Gabriel Fried's The Literature of Baseball course investigates why baseball, and its association with American optimism, is often used by literary writers in complex, and often ironic, ways.
"This compels the students to really explore the text we read, rather than take for granted baseball's role in them," says Fried, an assistant professor in MU's Department of English. "It is an exercise in overcoming assumptions, which is so much easier said than done, and most possible though the revision process that a Writing Intensive course insists on."
Fried's efforts and creativity as a Writing Intensive (WI) instructor earned him the 2017 Win Horner Award for Innovative Writing Intensive Teaching. MU's Campus Writing Program created the award in 2013 to honor Horner, who is nationally recognized as a pioneer in writing across the curriculum.
"To receive this award, when there are so many wonderful teachers on campus and online, is tremendously affirming and encouraging," Fried says. "The more I learn about Win Horner, the more honored I feel to receive an award that commemorates her."
The award honors faculty who start a new WI course or take a new direction with their WI teaching. Literature of Baseball came from Fried's desire to pair two of his lifelong interests.
"Professor Fried made his class about much more than a baseball book; he made it about Ball Four as a literary work and as a social document, as well as a work of social commentary," says Fried's colleague Samuel Cohen, an associate professor of English.
In addition to the Literature of Baseball, Fried has developed and taught four other WI courses: How to Read a Poem (co-taught with Alexandria Socarides), Reading Contemporary Poetry, Major Women Authors: Six Contemporary Poets, and First Books (co-taught with Frances Dickey).
"He thinks in innovative and compassionate ways about what is best for students—how to push them, how to please them, how to make learning and writing as emotionally and professionally productive for them as it is for him," says Socarides, an associate professor of English.
In nominating Fried for the Win Horner Award, one student shared how Fried adds value to his courses.
"He is an indispensable faculty member, and above all, an excellent and enthralling educator," the student nominator wrote.
Fried finds it difficult to overstate the significance of WI courses for students.
"In my experience, writing is too often thought of as a record of thought rather than a mechanism of it," he says. "Part of what WI courses achieve for students is the epiphany that writing is part of thinking; it happens through writing."
While the precision and scrutiny found in WI courses is possible in traditional courses work, Fried recognizes that it is much harder to find the time and guidance to achieve them.
"When students write precisely, with skepticism of easy phrasing and thought process, they think of things they never thought before," he says. "WI courses make students slow down with their writing in ways that can be transformative."