Published on Nov. 28, 2017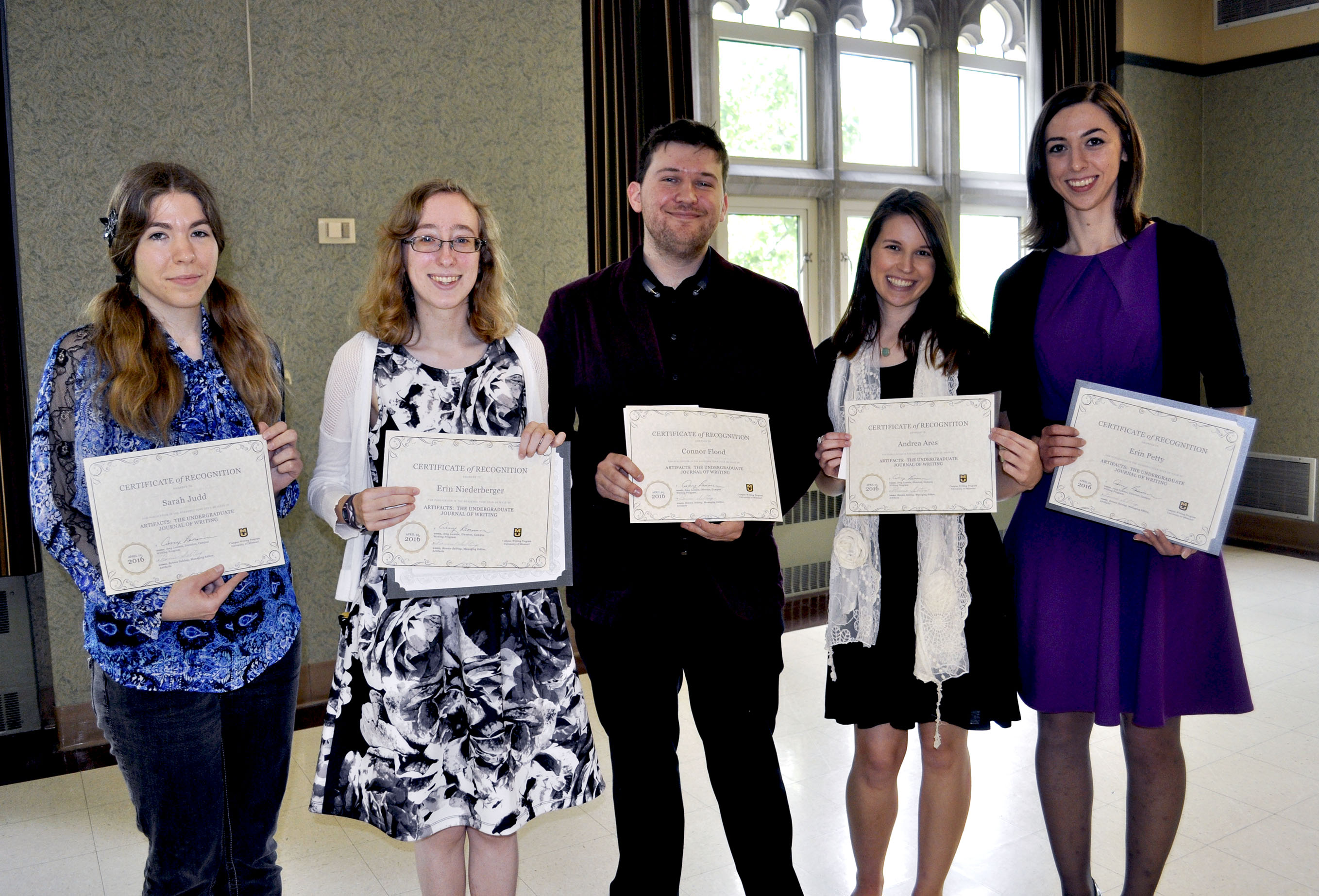 Amy Lannin, the director of the MU Campus Writing Program (CWP), notices a difference when students write for publication.
"Writing is taken to the next level when publication opportunities are there," Lannin says. "The writing is stronger when students are writing to an audience."
With that in mind, the CWP created new writing competitions that include the opportunity for publication.
Since 2008, the CWP has provided students the chance to have their work published in Artifacts, a refereed journal of undergraduate writing at Mizzou. The goal of the publication is to recognize, celebrate and disseminate a range of topics and types of undergraduate student writing.
Submissions are selected for publication in Artifacts not because they meet a universal standard for writing; they are selected because they meet, with creativity and intelligence, the particular demands of given topics and forms.
In an effort to expand the recognition of outstanding writing, CWP formed partnerships with the MU School of Law and the MU Museum of Art and Archaeology to create additional avenues to encourage and reward student writing in 2017-18.
One of the new writing competitions involves the topic of Campus Speech, Protest and Conflict Resolution. This award, which is a joint effort with the School of Law, includes two competitions—one for MU undergraduate students and one for high school students in the state of Missouri. In writing for this award, students should address campus speech, protest and/or conflict resolution and look at the implications of the First Amendment with these issues. These submissions will be longer than the other writing competitions, with the suggested length being between 10 and 30 pages.
Three winning papers and at least three honorable mention papers in each competition earn financial awards and publication in electronic proceedings posted on the Center for the Study of Dispute Resolution website.
Award winners in the high school competition will be invited to Mizzou in the spring to tour the campus and visit with key individuals at MU. In addition to the financial prize winnings, the high school award comes with an opportunity to receive a scholarship if the student enrolls at the University of Missouri within two years after graduating from high school.
Also new in 2017-18, CWP and the Museum of Art and Archaeology are collaborating to offer the Shield of Achilles writing awards, which recognize the best examples of ekphrastic writing.  Ekphrastic means "to speak out" and typically denotes poetry or creative writing concerning itself with the visual arts, artistic object and/or highly visual scenes. The writings are to be student responses to a piece of art and may involve poetry, the traditional form of ekphrastic writing, as well as shorthand creative nonfiction.
For this competition, students are encouraged to visit the Museum of Art and Archaeology and examine the work that is on display, although they are not required to select a piece of work from the museum about which to write. Students are welcome to submit these writing for publication in Artifacts, as well.
These new award competitions join the Mizzou Advantage Awards that are already in place. MU's longstanding culture of collaboration encourages partnerships among like-minded persons from different fields. The Mizzou Advantage initiative builds on the rich history in four deep-seated areas of strength: Food for the Future, Media of the Future, One Health/One Medicine and Sustainable Energy. For this competition, students are encouraged to submit works related to one of those Mizzou Advantage categories.
Winners of the Mizzou Advantage awards receive financial awards and will have their work published in Artifacts.
"The Mizzou Advantage Awards have been very successful for a few years now," says Erin Small, awards coordinator for CWP. "Other areas, such as the Museum and the School of Law, noticed that and wanted to get involved. We welcome these new opportunities to honor student writing."
The submission deadline for all awards is March 1, 2018 and all submissions can be emailed to mucwpawards@missouri.edu.