Published on June 22, 2019
As a child, my mother would always tell me stories of my ancestors and distant relatives, but I tended to brush it off like it was not a big deal. At such a young age, my goal was not to learn or absorb information about my past; it was to live in the present. As I grew older, I became more curious about my background and the relationships that set a precedent for my future endeavors. As a first-year college student, I was challenged to think about what I truly desire. I am constantly encouraged to seek out my identity through place and peers. I know bits and pieces of information about family history, however in order to discover who I truly am, I have made it a point to reach out to those who have the resources to teach me exactly what I should know. This has added depth and perspective to a story that was never fully completed by my mother who passed away. My goal is to continue that story-to come together as a complete picture. Now, it is my responsibility to discover how land works on me, and to see where exactly I belong.
My Historical Inspiration
Luecke is a northern German last name meaning "variant of Lück". My mom once mentioned how our last name can be seen from a satellite, which at the time seemed mysterious to me. Seen from space, the Luecke Farm Landmark is a strange and confusing sight. NASA was able to capture the essence and intricate imagery of the land. Jimmie Luecke, a young Texas state Trooper, tried his hand at oil drilling after he left the highway patrol in the 1980s. He became a millionaire thanks to the Austin chalk oil boom. What would he do with his money? Luecke decided to purchase a chunk of land outside of Smithville, Texas where he raised cattle. The new surroundings and ideals of Texas stoked his ego into a display for all to see, bulldozing the brush and spelling out his last name. It is known to be one of the biggest signatures in human history. The clever location and grand presence of the name makes it a landmark for area residents as well as commercial pilots.
Luecke's bold move attracted its fair share of criticism. In order to mark his name, Luecke had to cut many loblolly pine trees in the Lost Pines Forest, which is an isolated stretch of pine trees unique for Texas land. (Still, this did not stop officials from NASA to admire the beauty and precision of his signature. According to Condé Nast Traveler, NASA scientists were able to utilize the sculpted land "for evaluating spatial resolution of astronaut photographs.") In October of 2015, a wildfire spread across 4,582 acres and consumed about 64 homes. Surprisingly, the Luecke signature was not touched. That is what some would consider lucky. Others believe that a spark underneath one of the Luecke members' tractors caused the fire and twenty-two families filed a suit against him for property damage. Detrimental consequences resulted from his intentions that were meant to shed positive light on his name. He believes his mark is just as important as existence itself.
Luecke is not a common last name, but ironically, I have no relation to Jimmie Luecke- none that I know of. Such a prominent mark on the land was something that not only surprised me, but enticed me. It sparked my curiosity and hunger to know more about my family roots and various ties. In Jimmie's case, he worked on the land.
When making myself comfortable with new surroundings, my first instinct is to adapt as quick and easily as possible in order to make place my own and establish a sense of belonging. Maslow would say this is our attempt to fulfill basic physiological needs. We desire necessities, love and belonging. How do we achieve such standards that may seem so out of touch with where we stand in our current place? Chronotypes: the time and place a person is most aware and energetic in their environment. Jimmie's last name serves as a chronotype because it was not just a way for him to express his identity, but it quickly became familiar to others simply in passing. Time and space intersect in places where I begin to define myself and state of being. I become more aware not just physically, just emotionally and spiritually as I am more acquainted with where my feet touch and where my senses become enthralled.
Finding a Starting Point
I only have a personal connection with the Luecke side to such an extent, but this is a way for me to examine the correlation between place and relationships from an outside perspective. I have only met a few of my mom's cousins and a few of my great-grandparents' (Margaret and Francis X Luecke) children. I did not even have the opportunity to meet my grandpa as he passed away months before my arrival. Reaching out to relatives was intimidating, but has most certainly allowed me to build this personal connection because I am actively analyzing what is distantly apart of who I am and who I want to become-a more informed individual in a fast-paced world in which one typically does not acknowledge where they came from. Because I do not have immediate access to such information my mom would provide, it is significant for questions to be asked and curiosity to be sparked. I never know when I might not have the privilege one day to explore my past because it can most certainly define my future.
Gaining New Perspectives
"A lot of us did not think about family until we got older," said Cheri Inman, a Luecke cousin who was one of the closest to my mom.
Inman described how it was such an honor to spend time with older members of the family, especially Grandma Luecke because there were not many opportunities to do so. The house on Lemp in St. Louis City was a staple and landmark for the Luecke family. It was considered a safe haven, playhouse, and central point of gathering for all relatives. It is located right down the street from the Lemp Mansion Restaurant and Inn which is famous for its haunting by the descendants of the family. History took place right down the street, and within the Luecke home itself. Margaret Luecke, known as "Grandma Luecke," was the wife of Francis X Luecke. She was a strict, matter-of-fact woman who was only affectionate when she needed to be. The Lemp house featured three floors of hardwood and an open kitchen which was considered to be the heart of the old home. Inman remembers when her and the cousins would take a stroll down the street to the convenient store to buy Bazooka Bubble Gum and pumpkin seeds. The third floor of the home was the most entertaining for them as kids, so they would always climb up and down the steep steps to explore what creepy noises they would hear from the first floor or to simply put on a dance party and have fun. These are just a few memories engraved in Inman's memory when she recalls the good old days at the Luecke home on Lemp.
Moment of Realization: My Lemp Home Experience
I had always heard so much about this house growing up. In 2012, I finally had the opportunity to visit it thanks to Eric Luecke, a distant cousin who helped organize a much-needed family reunion. When we arrived to the house, my mom took me by the hand and showed me her old stomping grounds. She was so entrenched in the complexities of genealogy and becoming educated about where she came from. Her gentle and kind personality made it so easy for her to build relationships. She was very active as a kid and rode her red, sleek little bike everywhere, she would tell me. Everyone in the neighborhood knew Laura. People became quickly acquainted with her at the age of nine when she would walk door to door and collect donations for the Jerry Lewis telethon for Muscular Dystrophy. Nothing held her back from reaching out to others and reconnecting with old friends. Even though I had never stepped foot into the house, I felt as if I had known this place forever. I established such an emotional connection with it because someone who I love most deeply grew up here and experienced true happiness, bliss and quality bonding. I witnessed the happiness and excitement in her eyes as she walked up the steps to the third floor for the first time in thirty-years. Now, I long to experience this same comforting feeling once again just as I did in our house on Tholozan, my childhood home. The house on Tholozan was my mom's childhood home as well, when she was not at the Lemp house. We both created such lasting, prominent memories on Tholozan, but place constantly shifts and shapes us. I desire to have a more solidified idea of what home is and what it should entail after having place work on me. It takes time and patience to adapt to place. This process is significantly disrupted when big changes take place.
But it is inevitable and we must learn to deal with such events that will shape us in the long run. Place helps us conform.
Location: Past vs. Present
Everyone's definition of home is different. It varies due to many factors, not just your physical location. I have concluded that physical entities give birth to all things and provide a foundation for a physical and spiritual basis for life. This was the case for the house on Lemp, but traces back to a small city in Missouri called Westphalia. It is part of the Jefferson City area, where Francis X and Margaret lived before moving to St. Louis to continue their family. Prominent nineteenth century German architecture fills the streets of Westphalia that are labeled in both English and German, tying residents back to their roots and current residence. "Westphalia is the oldest German Catholic community west of the Mississippi River and the Westphalia Historical Society was organized to keep that German heritage alive," according to the Westphalia Historical Society website. This part of Missouri is focused on preserving its inhabitants and history. This is important for those who want to be close to their roots.
Francis and Margaret debated about moving to a new city where life would be much more fast-paced and chaotic. They took the opportunity because they saw something beyond the stress and unknown possibilities. They saw a way for their lives to transform for the better. This was not guaranteed, however. Life's harsh realities started to take over and forced Francis and Margaret to leave St. Louis after many breweries shut down due to prohibition. Francis also struggled with sickness much of the time. According to a document provided by Eric Luecke, Francis and Margaret lived on a farm after this incident where horse-drawn wagons were the main method of transportation. Eventually, they lost the farm they moved to after hardships in St. Louis. They're only choice now was to stay in a deteriorated temporary residence until they could make an attempt to move back to St. Louis. This illustrates the idea that their plans were not defined by happiness and success. The family dealt with problems that location provided them with consequently.
My Discovery: To be Continued
All of these destinations mentioned have a way of shaping identity. The Luecke Farm Landmark expressed the desire to go big or go home when showing others who you are. Jimmie Luecke worked on his place and many of us make large efforts to be acknowledged or remembered. But it is something as simple as walking to the convenience store on Lemp to get a snack that is a memory to last evidently for decades. Places does this to us. Place works on us. It is the little, everyday actions, that we do not think much of, that derive why we are in designated territory. We are attracted to sights, family, friends and the memories that eventually make us whole.
If I deeply root my thoughts with the essence of physical land, I evolve into critical thinker and present symbolic interconnectedness as I gain a better understanding of the ground I walk on and the air I breathe. As far as indigenous ways of life, agency is circulated through human actions and physical features of land. I can learn and act upon this way of life, and the start to this is reaching out to my resources who are wise and educated. There are many similarities between the ways that indigenous people and modern society thinks about their background, depending on the individual's situation and how they were raised. Some are naturally engaged in how they came to be in such a complex world while others feel as if tracing back their ancestry is more of a chore or burden to not be reckoned with. This may be due to the fact that it is emotionally striking or draining to endure a heavy load of information or perspective. But how else are we supposed to build upon and leave our roots better than we discovered them?
Eric Luecke instilled the idea that no matter how old you are or where we end up due to various circumstances, longing to know details of my family is not nearly enough to be fully immersed in the original presence of family or home. "Thank the trials that you have gone through," Luecke said. His trial was to attempt reconnection. That was his motive for organizing the reunion, where the young had the opportunity to meet the old and familiar faces rekindled a lost connection.
Land, material item and relationships tend to present us with challenges. They also tend to provide us with the most beautiful gift of self-discovery and motivation so that we may better understand our purpose. I have many stories left to hear and many more people to meet. I have heard the stories of my mother and grandparents. I have heard the testimonials and accounts of family my mom wanted me to explore. And I thank my trials from places every day.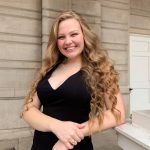 Elyse Luecke is a sophomore journalism major with an emphasis on Strategic Communications from St. Louis, MO. She recently added political science and business minors to supplement her potential area of journalism. Since her experience at the Washington Journalism and Media Conference and the Princeton Summer Journalism Program she attended in high school, her passion for journalism and writing has only grown stronger during her time at Mizzou thus far. She enjoys academics, traveling and spending time with her family and friends.